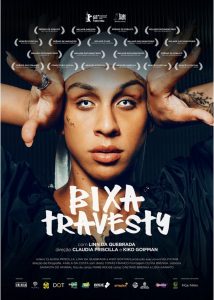 This week we're going to watch a pretty awesome documentary: Bixa Travesty. It's a documentary made by and about Linn Da Quebrara, a Brazilian transfeminine artist & activist. Have a look at the trailer, or check out the summary below, if you like: vimeo.com/454930674 Heads up: there is quite a bit of nudity and explicit language used in the movie.
As per usual, we will be meeting around 19.00. We will watch the documentary and then discuss it together. For the location of the event, send us an email and we'll be happy to provide the necessary details.
Summary of the documentary:
Coming from a very poor region of São Paulo, Linn faces many prejudices, also for being black. Her funk music sounds like a gun against machismo. With a really strong and daring presence on stage, she constantly seeks to discuss and fight paradigms and stereotypes.
CORONA STUFF
In light of the rise in cases in our area we've decided to restrict the number of participants to 12. Please send us an email to sign up. We will still accept people who haven't signed up at the door, but there is a chance we might have to send you home if we've reached 12 people already. We will reintroduce the signup sheet so that we can mail everyone in case we hear that there was a risk of infection that night (which also means: if in the week following QSU you develop symptoms or hear that someone you have been in contact with before the QSU might have Corona, please let us know. We will not share your name of course, but just need to make sure everyone can be informed). Masks will be mandatory from the doorstep onward and you will be asked to disinfect your hands or wash them thoroughly upon entering. We will try to come up with something for the toilet so as to avoid having to cross each other in the corridor all the time. And please only come if you do not have any symptoms and if you have not been in contact with anyone who might be infected.
On the longer term we will be thinking of ways to include those who cannot come in person – we will keep you posted!